Young Entrepreneur Market
New to Young Entrepreneur Market? Fill out a form below and we will be in touch to get you started!
YEM New Participant Application
Market dates for July 2019 through December 2019
View the Calendar and Reserve a Market Date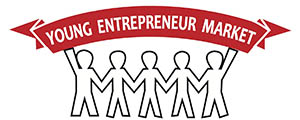 Young Entrepreneur Market offers students real-world experience selling their products, in person, to the public. The venue is a booth at the Shaker Square, Crocker Park, Hudson and Aurora Farmers Markets, with a consistent presence throughout the year. The Market is open to students at Northeast Ohio schools and organizations. For more information about Young Entrepreneur Market, contact Reka Barabas, Director at 216-831-2200 x7489 or click here to email her.
Hear what our entrepreneurs have to say about Young Entrepreneur Market.