Each spring University School hosts a free day-long event that brings together nearly 1,000 middle school and high school students. A nationally recognized young entrepreneur presents to K-12 students. This year's celebration will take virtually, so feel free to join from wherever! Celebrate Youth Entrepreneurship at University School is made possible through the generous support of Burton D. Morgan Foundation.
Our 2021 Featured Speaker is Haile Thomas!
Wednesday April 28, 2021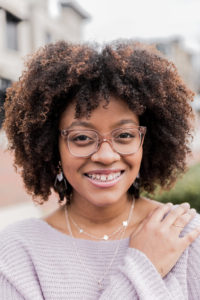 Haile Thomas is 19 years old, an international speaker, a health activist, a vegan food & lifestyle influencer, podcaster, the youngest Certified Integrative Nutrition Health Coach in the United States, and the founder/CEO of the nonprofit HAPPY (Healthy Active Positive Purposeful Youth). Haile founded HAPPY when she was 12 years old to address the need for free/affordable plant-based nutrition and culinary education in underserved/at-risk communities as well as in schools and through annual summer camps.
Haile has personally engaged over 35,000 kids since beginning her activism in 2010. She was inspired to pursue this passion after her family successfully reversed her father's type-2 diabetes with healthy eating an lifestyle choices and upon learning that kids were increasingly being diagnosed with conditions like diabetes, heart disease, and obesity. All of Haile's programs, projects, and initiatives are geared towards engaging, educating, motivating, and empowering young people to make healthy lifestyle choices to live their best life. She also hosted the podcast "Girl Empowered" where she interviewed inspiring and empowering women.
At 12 years old, Haile worked as the Jr. Chef Advisor for Hyatt Hotel's "For Kids – By Kids Menu", with her menu recipes served at all Hyatt Resorts in North America and the Caribbean. She has been featured on two different food network shows – she was one of 8 young chefs feature on season one of Rachael vs. Guy Kids-Cook-Off and also on Cupcake Wars Kids.
Haile has been featured by CNN, the Today Show, NowThis, BuzzFeed, MTV, The Harry Show, Dr. Oz, Home and Family Show, and the Rachael Ray Show. She has been highlighted in several major publications including O Magazine, Teen Vogue, and YES Magazine.
Haile will be speaking via Zoom at the following times:
10:00 – 11:00 AM
12:45 – 1:45 PM
Click here to register your class!
For more information about Celebrate Youth Entrepreneurship, please contact Matthew Podl at 216-831-2200 x7496 or click here to email him. 
Previous CYE speakers:
CYE 2019 – Graham Veysey US '00, Serial Entrepreneur, Founder of North Water Partners
CYE 2018 – Krystal Persaud, Senior Director of Product Design & Strategy, littleBits
CYE 2017 – Jon Kaplan US '91, Head of Global Sales, Pinterest
CYE 2016 – Andrew Yang, Founder and CEO, Venture for America
CYE 2015 – Clint Greenleaf US '93, Entrepreneur, Author, Personal Finance Expert
CYE 2014 – Shama Hyder, Author and Entrepreneur, Zen Marketing