Celebrate Youth Entrepreneurship Recap
On Wednesday, April 28, we hosted our 11th Celebrate Youth Entrepreneurship at University School event, featuring Haile Thomas. Between the morning and afternoon sessions, we welcomed 500 students from more than 20 schools and organizations from Northeast Ohio and beyond.
Haile Thomas is 20 years old, an international speaker, a health activist, a vegan food & lifestyle influencer, podcaster, the youngest Certified Integrative Nutrition Health Coach in the United States, and the founder/CEO of the nonprofit HAPPY (Healthy Active Positive Purposeful Youth). Haile founded HAPPY when she was 12 years old to address the need for free/affordable plant-based nutrition and culinary education in underserved/at-risk communities as well as in schools and through annual summer camps.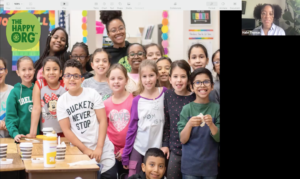 She shared the inspiration behind her entrepreneurial journey and provided tips for how students can turn their passions into businesses, regardless of age.

You can check out the hour long presentation, which includes 15 minutes of Q+A by clicking here.