Each spring University School hosts a free day-long event that brings together nearly 1,000 middle school and high school students. A nationally recognized young entrepreneur will present to students and ignite their inner entrepreneurial spirit. This year's celebration will be a hybrid event. In person seating is limited, so make sure to register ASAP.
Celebrate Youth Entrepreneurship – April 13, 2022
Join us for our 13th annual Celebrate Youth Entrepreneurship event. This year's keynote speaker, Jahkil Jackson, will be discussing his entrepreneurial journey and providing students with a framework on how they can be social entrepreneurs in their own communities.
All sessions can be attended virtually, but you MUST register.
Session 1: 9:40 am-10:40 am *
Session 2: 11:45 am- 12:30 pm
*Please note, in-person attendance is full for session 1
.
Our 2022 Featured Speaker is Jahkil Jackson!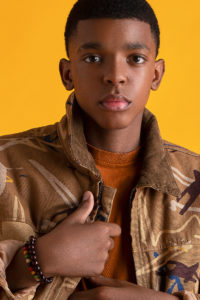 Jahkil Naeem Jackson is a best-selling author, social entrepreneur, student athlete, influencer, and founder of Project I Am, a nonprofit organization he created when he was eight years old. Now 14, Jahkil has a heartfelt desire to help those in need. Jahkil's mission is to build awareness of homelessness and to help the homeless population by offering "Blessing Bags," a giveaway filled with masks, wipes, socks, deodorant, hand sanitizer, and more. In just a few years, Jahkil's efforts have empowered hundreds of young people to become change agents and has led Project I Am's efforts in raising $275,000 for the homeless.  Additionally, Jahkil's efforts have touched nearly 70,000 men, women, and children across the world.
Summer 2016, he was named a Youth Ambassador for Heartland Alliance, one of the world's leading anti-poverty organizations.  Winter 2017, Jahkil became a member of the WE International Youth Council. WE is a movement that exists to make the world a better place. WE Day is also a celebration of youth making a difference in their local and global communities. Jahkil was a guest speaker for 2017 and 2018. Fall 2018, Jahkil became the youngest member of the Independent Youth group which empowers today's youth to become tomorrow's business leaders and entrepreneurial innovators. Jahkil was named Vice Chairman of the 2019 KidBox Youth Board of Directors and named one of BET's 15 under 15.
Most notably, Jahkil was acknowledged as one of three influential people of 2017 by President Barack Obama and the Obama Foundation. Jahkil was also tapped to participate in Disney's Be Inspired Black History campaign, GAP's Next Generation campaign, Lebron James' #AlwaysBelieve campaign, Nike's Until We All Win & You Can't Stop Our Voice campaigns and is now a Marvel Super Hero and CNN Hero Young Wonder!